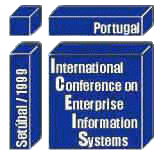 ICEIS'99
1st International Conference on Enterprise Information Systems
Setúbal, PORTUGAL
27-30 March, 1999
PETER APERS

Peter M.G. Apers is a professor at the University of Twente in the Netherlands. He received his Ph.D from the Vrije University in Amsterdam. The topic of his thesis was distributed query processing and data allocation.

Before and after working on his thesis he was a visiting researcher at the University of California in Santa Cruz and Stanford University.

Currently he heads a group of about 15 researchers working on multimedia information retrieval, semi-structured data for WWW query support, transactional support for workflow management, transaction verification, and data models to integrate structure, operation, and process specification.

Recently he was the PC chairman of the EDBT'96 held in France. In 2001 he will be the European PC chairman for the VLDB in Rome.

He is Coordinating Editor-in-Chief of the VLDB Journal and he serves on the editorial board of Data & Knowledge Engineering and Distributed and Parallel Database Systems.

For more information, please look at http://www.cs.utwente.nl/~apers.